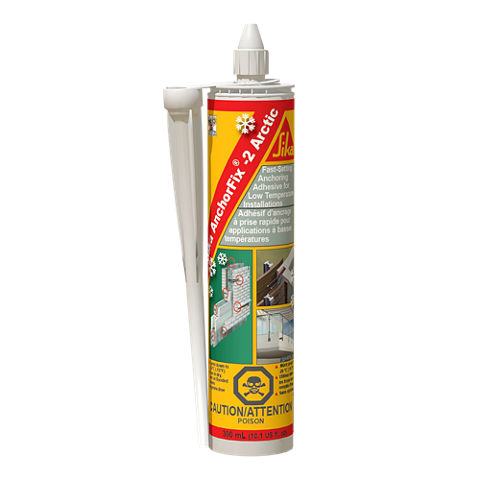 Fast-Setting and Styrene-Free Epoxy Acrylate Anchoring Adhesive for Low Temperature Installations
Sets up in dry, wet and flooded holes.
Cures down to -26°C (-15°F) when material is pre-conditioned to at least 0°C (32°F).
Styrene-free.
Available in single piston cartridges
Approved for threaded bars in concrete.
Allows fixings close to free edges.
Reduced drilling diameters i.e. 2 mm anchor clearance results in economic installation.
Flexible embedment depths.
Resistant to a wide range of chemicals, including aqueous solutions of acetic acid, aluminum chloride and aluminium nitrate at 10% concentration, jet fuel, diesel fuel, domestic kerosene and many other substances at 75°C (167°F) while retaining at least 80% of physical values.(See Chemical Resistance Guide).
Approvals/Certifications
ETAG 001: Part 5, Option 7 approval for M8-M30 galvanised and stainless steel threaded bars (see specifics below*).
*4.6, 5.8, 8.8 & 10.9 galvanised steel & A4-70 and A4-80 stainless steel & 1.4529 HCR
threaded bars in C20/25 to C50/60 non-cracked concrete.