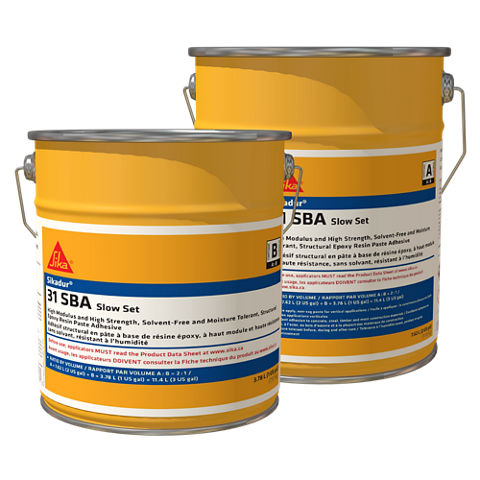 HIGH MODULUS AND HIGH STRENGTH, SOLVENT-FREE AND MOISTURE TOLERANT, STRUCTURAL EPOXY RESIN PASTE ADHESIVE
Sikadur®-31 SBA Slow Set is a unique, two-component epoxy resin based, structural adhesive. It is moisture tolerant during application and curing and provides high-modulus and high strength properties once cured. The material is specifically formulated as an adhesive paste, available in temperature grades to accommodate differing site conditions and construction requirements. The Sikadur®-31 SBA group of adhesives has a proven track record and is widely used in bonding hardened concrete to hardened concrete in the erection of segmental bridges and precast elements, amongst other applications.
Easy to apply, non-sag paste for vertical applications.
Convenient and easy to mix ratio. A:B=2:1 by volume.
Excellent adhesion to concrete, steel, timber and most construction materials.
Moisture tolerant before, during and after cure.
Supplied in 2 temperature governed grades to meet project requirements.
Grade 13-24 (+13 °C to +24 °C [55 °F - 75 °F])
Grade 21-32 (+21 °C to +32 °C [70 °F - 90 °F])
Sikadur®-31 SBA Slow Set Cold Weather is available for cold weather conditions [-6 °C to +7 °C (21 to 45 °F)].
High-modulus, high-strength, structural adhesion.
Conformance to ASTM C881, Type VI requirements and ASBI guidelines.
Product qualified by The Road Authority (TRA).