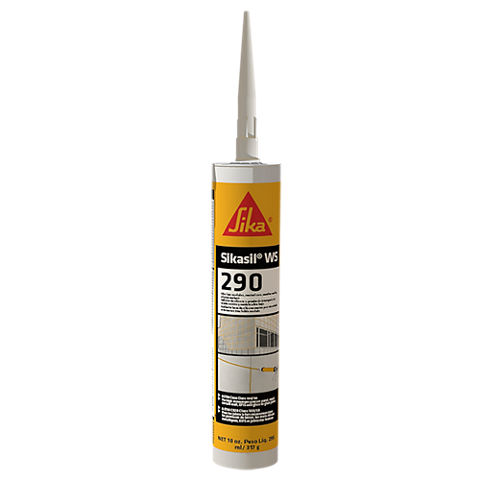 Sikasil® WS-290 is an ultra-low modulus, one–component, non-sag, elastomeric, neutral-cure silicone sealant. It
possesses a no-bleed formulation and is suitable for above grade, horizontal and vertical, interior or exterior applications.
May be applied in below freezing temperatures if substrates are completely dry, frost free and clean.
Excellent gunability in all temperatures.
Adhesion to porous and non-porous materials, including glass, aluminium, metal, tile, fibreglass, plastic, ceramic, masonry, concrete, brick, powder coated aluminium, fluoropolymer painted surfaces, vinyl, PVC, EIFS, granite, limestone, marble and wood.
Capable of accommodating +100/-50 % joint movement.
Non-staining, maintains appearance of architectural substrates.
Unaffected by most atmospheric conditions.
Meets industry specifications: ASTM C920, Type S, Grade NS, Class 100/50, Use NT, M, G, A, O; TT-S-00230C, Type II,
Class A; TT-S-001543A, Class A; CAN/CGSB 19.13-M87, AAMA 808.3 and California Resource Board 2003 requirements for VOC content.
Meets ASTM C1382 when used in Exterior Insulation Finish Systems (EIFS) Joints.