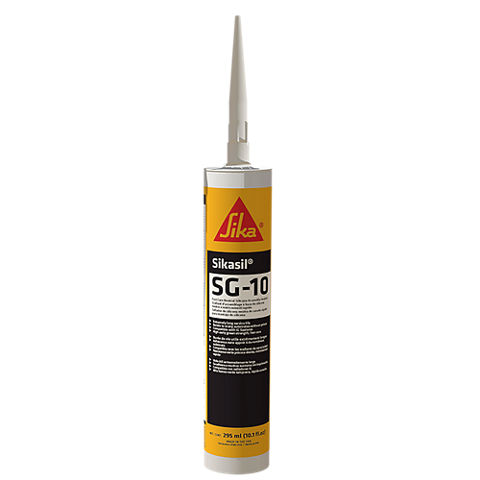 Sikasil® SG-10 is a fast-curing, one-component, non-sag, elastomeric, neutral-cure silicone sealant. Meets the requirements of ASTM C-920, Type S, Grade NS, Class 25, Use NT, T, M, G, A, O; TT-S-00230C, Type II, Class A; TT-S-001543A, Class A; CAN/ CGSB-19.13-M87, AAMA 802.3 Type I and II, AAMA 803.3, Type I, AAMA 805.2, AAMA 808.3 and California Air Resources Board 2003 requirements for Volatile Organic Compound content. Sikasil® SG-10 is especially suitable for window fabrication and has passed the Florida Hurricane Glazing Code when used in designed systems.
Excellent weather-resistance and extremely long service-life;
Faster production capability in assembly processes;
High early green-strength and fast-cure;
Excellent flexibility for dynamic joint movement;
Bonds to most substrates without priming;
Compatible with IG sealants;
Enhanced adhesion to PVC/vinyl, glass, aluminium, metals, powder-coated surfaces, tiles, fibreglass, plastic, ceramic and wood;
AAMA-Certified component for standard and impact glazing when used in designedsystems.