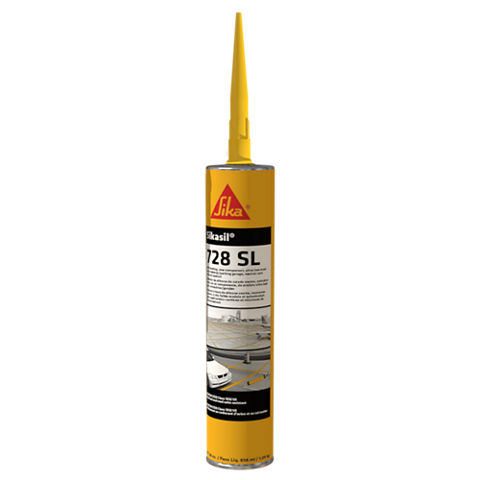 Sikasil®-728 SL is an ultra-low modulus, one-component, self-levelling, elastomeric, neutral-cure silicone sealant. It is formulated to be suitable for horizontal applications subject to traffic, including highway and parking garage joint sealing.
May be applied with ease in all seasons and ideal for cold climates.
Self-levelling eliminates need for tooling, increases productivity and reduces labour costs.
Bonds to most substrates without priming on concrete and also adheres to steel, glass, aluminium, tile, fibreglass, plastic, ceramic, masonry, brick, stone, granite and wood.
Good contact/adhesion with hard to reach areas.
Excellent flexibility in extremely high and low temperature conditions.
Capable of accommodating +100,-50% joint movement.
Extremely long service life.
Meets the requirements of ASTM D5893; ASTM C920, Type S, Grade P, Class 100/50; Use T, M,G, A,O with an ultra low Shore Hardness; TT-S-00230C, Type I, Class A; TT-S-001543A, Class A and California Air Resources Board 2003 requirements for VOC content.
Approved for use by Alberta Transportation.