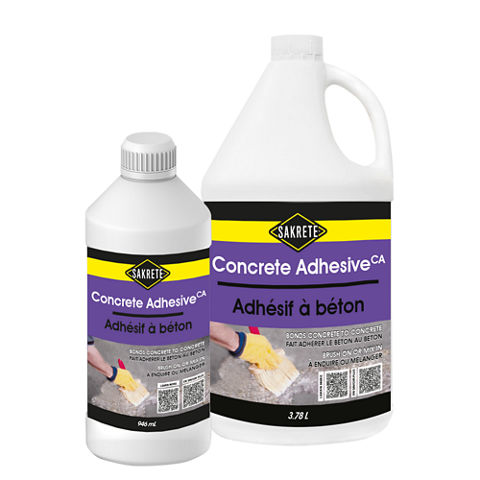 SAKRETE Concrete Adhesive
SAKRETE Concrete Adhesive is a high performance, latexemulsion adhesive designed for use as a bonding agent between new and existing concrete and masonry surfaces. Either brush on to existing surface or mix into fresh material.
Bonds concrete to concrete
Brush on or mix in
Increases performance
Usage
Can be used for patch repairs or resurfacing on concrete bridges, parking decks, industrial floors, retaining walls or sidewalks. Also use for parge-coating foundation walls and leveling concrete floors to receive overlayments. This product can be used on wood substrate, solely for use with SAKRETE Self Leveling Underlayment.
Advantages
Bonds concrete to concrete
Brush on or mix in
Increases performance
Packaging
946 mL (32 oz) plastic bottle
3.78 L (1 US gallon) plastic bottle