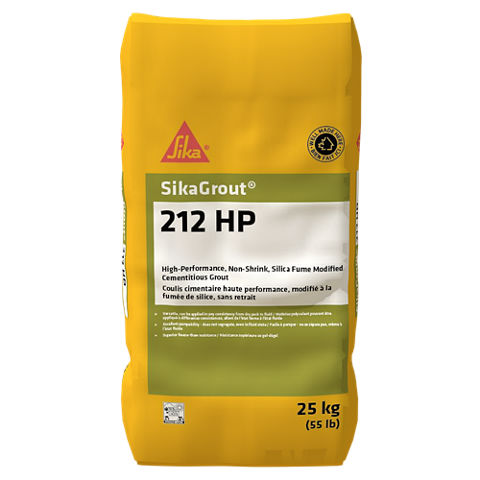 SikaGrout®-212 HP is a high-performance, non-shrink, fluid, cementitious grout with silica fume and a unique two-stage mechanism, compensating for shrinkage in both the plastic and the hardened states. It is non-metallic, contains no chlorides and it may be placed at various consistencies ranging from dry to fluid by simply adjusting the quantity of mix water.
Pre-blended for easy application and maximum field control. Just add water, mix and place.
Versatile, can be applied in any consistency from dry, plastic or fluid by varying water content.
Reducing water content accelerates strength development and ultimate compressive strength values.
Non-corrosive, does not contain chlorides.
Formulated with inert, non-reactive aggregates to eliminate potential Alkali-Aggregate Reactivity (AAR).
Excellent pumpability - does not segregate, even in fluid state. No build-up on equipment hopper.
Low heat development.
Superior freeze/thaw resistance.
Meets ASTM C1107, Grade C type grouts.
Meets H. A. Simons grout specification 1S-05-01 for grout types 1, 2a, 2b, 2c, 3, 4, 5 and 6.
Ministère des Transports du Québec (MTQ) acceptance.
Product qualified by The Road Authority (TRA).
Ministry of Transport Ontario (MTO) approval for use in grouting bridge bearings as well as anchor bars. (Reports MI-110, MI-120 respectively).
Product recognized by the British Columbia Ministry of Transportation (BC MoT).