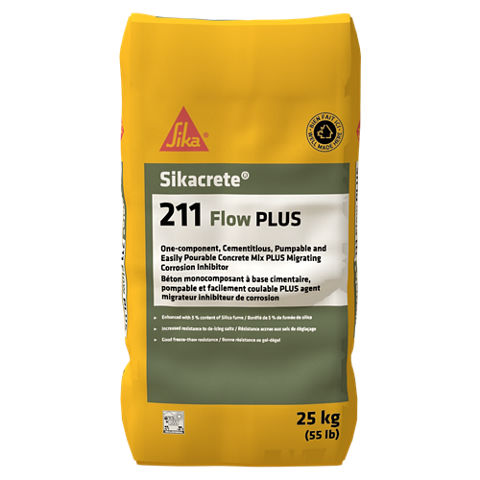 Sikacrete®-211 Flow PLUS is a pre-packaged, ready-to-use, flowable, cement-based concrete, usable for concrete thicknesses exceeding 25 mm (1 in). Sikacrete®-211 Flow PLUS contains special additives designed to improve the ease of use and facilitate surface finishing.
Contains integral corrosion inhibitor based on proven technology.
Can be pumped or poured.
Enhanced with 5 % content of Silica fume.
Good freeze/thaw resistance.
High bond strength.
Not a vapour barrier.
Easily applied to clean, sound substrates.
Compatible with coefficient of thermal expansion of concrete.
Increased resistance to deicing salts.
Formulated with inert, non-reactive aggregates to eliminate potential Alkali-Aggregate Reactivity (AAR) and the need to extend the product in the field with non-compliant aggregates.