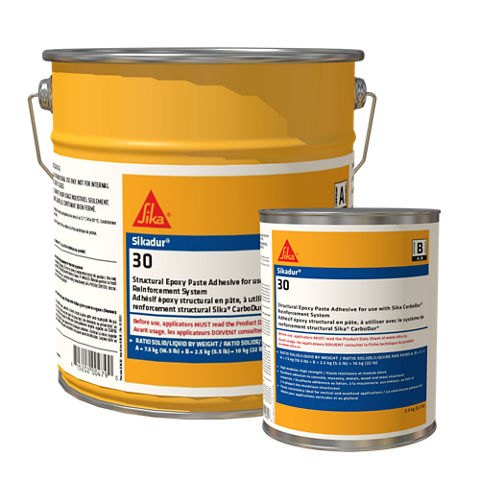 High Modulus, High Strength, Structural Epoxy Paste Adhesive for use with Sika® CarboDur® Reinforcement System
Long pot life and open time.
Moisture tolerant before, during and after cure.
High modulus, high strength, structural paste adhesive.
Excellent adhesion to concrete, masonry, metals, wood and most structural materials.
Fully compatible and excellent adhesion to Sika® CarboDur® CFRP composite laminates.
Paste consistency ideal for vertical and overhead applications.
High creep resistance under permanent loads.
High abrasion and shock resistances.
Convenient easy mix ratio A:B = 3:1 by weight.
Solvent-free.
Colour coded components to ensure proper mixing control.
Canadian Food Inspection Agency accepted.
Approved by the Ministère des Transports du Québec.