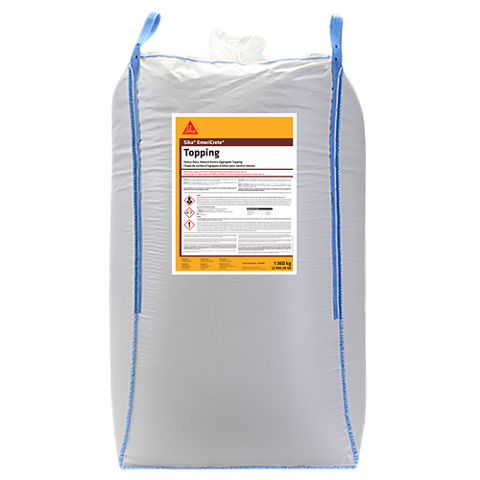 Sika® EmeriCrete® Topping
HEAVY-DUTY, NATURAL EMERY AGGREGATE TOPPING
Sika® EmeriCrete® Topping provides superior heavy-duty protection in areas subject to extreme abrasion and impact conditions where conventional concrete can wear very rapidly. It contains premium quality, carefully graded emery aggregate, cement, plasticizer and wetting agents specifically formulated for installation at 19 mm to 37 mm (¾ in to 1½ in) thickness.  It can be applied to fresh concrete slabs as a monolithic topping or to hardened concrete slabs as a separately bonded topping.  Its non-rusting characteristics and high density make it suitable for interior or exterior exposure.
Sika® EmeriCrete® Topping is premixed and ready-to-use.
Selective sourcing, crushing and grading of premium grade high aluminium oxide (Al2O3) and iron oxide (Fe2O3) content emery mineral, produces superior aggregates that are pre-mix in factory with other ingredients to ensure a consistent high quality material of screedable consistency.
Superior abrasion and impact resistance provides years of service life under the harshest conditions.
High surface density improves resistance to oil, grease and liquid penetration.
Non-rusting materials make it suitable for interior or exterior applications and wet service areas.
Intense heat resistance - maximum 290 °C (554 °F).
Can be finished with a surface texture to provide increased traction.