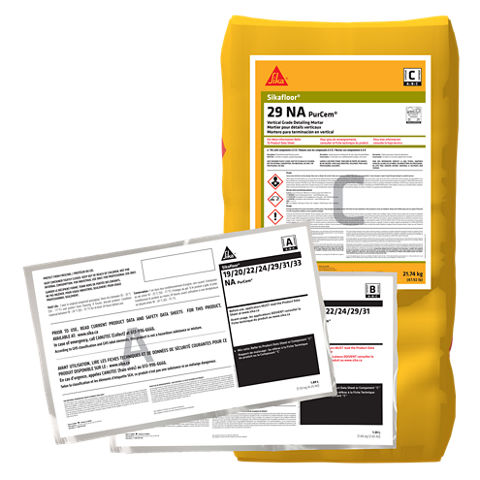 ADVANCED GENERATION, HIGH STRENGTH POLYURETHANE/CEMENT COVING AND DETAILING MORTAR
Sikafloor®-29 NA PurCem® is a state-of-the–art, vertical grade, phthalate-free, water-dispersed polyurethane-based/cement and aggregate mortar applicable at thicknesses ranging from 3 to 6 mm (1/8 to 1/4 in). It is designed for use in vertical detailing and coving works to provide excellent resistance to abrasion, impact, chemical attack, and other physical aggression and has fine aggregate, smooth surface texture. Sikafloor®-29 NA PurCem® represents superior polyurethane/cement technology, combining easier application, resistance to blistering and improved performance.
Applicable onto 7 to 10 day old concrete after adequate preparation and where substrate has tensile bond strength in excess of 1.5 MPa (218 psi).
Designed specifically for trowel application to vertical surfaces and at wall/floor junctions.
Longer pot life permits increased productivity with less waste.
Resists a very wide range of organic and inorganic acids, alkalis, amines, salts and solvents. Consult Sika Canada for full details. Refer to the Sikafloor® PurCem® Chemical Resistance Chart.
Similar coefficient of thermal expansion to concrete allowing movement with the substrate through normal thermal cycling.
Performs and retain its physical characteristics through a wide temperature range from -40 °C (-40 °F) up to 120 °C (248 °F).
Superior formulation eliminates formation of blisters, such as those arising out of application during elevated temperatures or early and multiple layer applications.
Bond strength in excess of the tensile strength of concrete, concrete will fail first.
Non-taint, odourless and phthalate-free, avoiding associated toxicity to health and environmental hazards.
Behaves plastically under impact; deforms but will not crack or debond.
Easily maintained using commonly employed methods and phenol-free detergents.
Achieves highest performance ratings according to ASTM G21 resistance to fungi and ASTM D3273 resistance to mold growth.