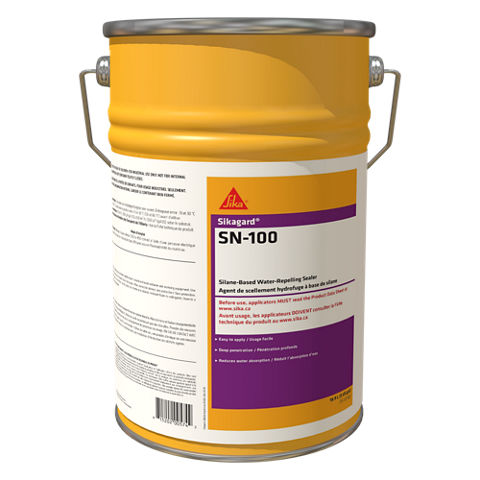 Sikagard® SN-100 is an advanced generation of highly penetrating, clear, monomeric silane sealer. Using proven technology, the material has been formulated to be VOC compliant while providing an integral barrier against the ingress of moisture and water-borne salts into concrete and masonry.
Easy to apply for an economical application.
Deep penetration protects it from weathering, ultraviolet rays and abrasion.
Reduces water absorption for better protection in splash zones and against driving rain.
Reduces chloride ion intrusion and its negative effects through repelling of water.
Can be part of corrosion management program to expand service life for reinforced concrete.
Not a vapour barrier allowing treated surfaces to "breathe".
Lasts for many years; providing a long-term, cost effective solution.
Ministry of Transport Québec acceptance.
Approved by Alberta Transportation as a Type 1c concrete sealer for use on new bridges and overlays.
VOC compliant; satisfying Environment Canada regulations.